Enjoy sweet taste in your EatWell diet:
Establishing new food-based dietary guidelines is not just a worldwide trend, but also a need to move into a more holistic dietary approach. More specifically, the food-based dietary guidelines recognise that a healthy and balanced diet is more that just nutrient requirements, and aim to provide simple messages to the general public on healthy eating in terms of foods and drinks people should consume rather than just nutrients.
The new UK "Eatwell Guide". Helping you eat a healthy, balanced diet.
In March 2016, the new version of the UK dietary guidelines, called "The Eatwell Guide" was launched by Public Health England and has taken the place of the traditional plate model2. The Eatwell Guide suggests that a healthy diet should now include more fruits, vegetables and starchy wholegrain carbohydrates, and urges people to cut down on the amount of saturated fat, salt and sugar. By replacing sugary foods and drinks with low calorie sweetened options, people can easily reduce sugar intake while they can still enjoy the desired sweet taste in their diet3.
How can low calorie sweeteners fit into the EatWell Guide?
Low calorie sweeteners (LCS) provide a simple way of reducing the amount of sugars and calories in our everyday diet without affecting the enjoyment of sweet tasting foods and drinks. As such, LCS can play a helpful role in our effort to maintain our daily sugar intake below the recommended level of 10% of total energy intake4. This has been confirmed in randomised clinical trials (RCTs), which show that the use of LCS is associated with a lower intake of sweet tasting foods or drinks, in both adults5 and children6.
Low calorie sweeteners have the benefit of providing practically no calories in the foods and drinks they are used, and therefore, they can help people manage and reduce their daily energy intake7. So, when used as part of a balanced diet, as described by the new Eatwell Guide, LCS can have a number of benefits such as helping in weight loss and maintenance8, as well as offering sweetness to people with diabetes without affecting their glucose and insulin levels9.
You may find useful and practical tips about how to make small and manageable changes to daily eating and drinking habits such as substituting sugars for low calorie sweeteners in your everyday diet by reading the ISA fact sheet on Smart Swaps
Eat well in 7 steps
The new Eatwell Guide divides the foods and drinks people consume into five main groups, and shows the proportions in which different types of foods are needed to have a well-balanced and healthy diet:
Eat at least 5 portions of a variety of fruits and vegetables every day
Base meals on potatoes, bread, rice, pasta or other starchy carbohydrates; choosing wholegrain versions where possible
Have some dairy or dairy alternatives (such as soya drinks); choosing lower fat and lower sugar options
Eat some beans, pulses, fish, eggs, meat and other proteins (including 2 portions of fish every week, one of which should be oily)
Choose unsaturated oils and spreads and eat in small amounts
Drink 6-8 cups/glasses of fluid a day (water, low-fat milk, sugar-free/ diet drinks – including tea and coffee all count)
If consuming foods and drinks high in fat, salt or sugar have these less often and in small amounts.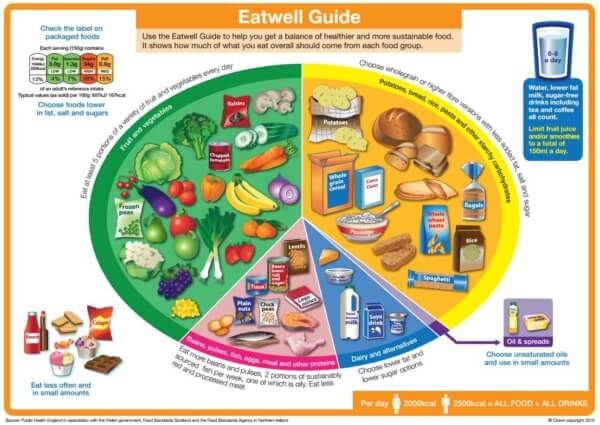 Source: Public Health England in association with the Welsh government, Food Standards Scotland and the Food Standards Agency in Northern Ireland