Following realistic and small changes in your dietary and lifestyle habits, like replacing sugar with low calorie sweeteners in food and beverages, is a smart way to work on reversing that holiday weight gain. However, from time to time you may read sensational news headlines about low calorie sweeteners that can give you pause – like the possibility that they might affect gut hormones involved in appetite regulation or have some other way to make people get hungry and gain weight. Of course, that might lead people to wonder. The truth is, though, that intensive research shows that approved low calorie sweeteners, like aspartame, sucralose, and acesulfame-K, certainly do not, and cannot, cause weight gain. On the contrary, research shows that, when used in place of sugar and as part of a sensible strategy for weight management, low calorie sweeteners can help people reduce energy intake and be a useful tool in weight loss1. Recently, three new important papers added further evidence to the research that refutes the hypotheses that low calorie sweeteners can either affect gut function (including the secretion of hormones involved in appetite regulation) or cause weight gain.
"Good taste determines what we choose to eat, but not how much we eat over the long-term"
In a very important study, Tordoff and colleagues specifically investigated the effects of "good (including sweet) taste" in driving over-eating and weight gain.2 Sucralose and/or fat was added to standard mouse chow to result in diets that the mice strongly preferred. Mice were fed these diets or respective control diet (with/or without added fat and/or sucralose) for 6 weeks. The study showed no increase in body weight or fatness, compared to the respective control, when the diet contained sucralose. The study was conducted at the Monell Center, a widely known independent, non-profit research centre that focuses on "understanding the mechanisms and functions of taste and smell" and defining "the broad significance of these senses in human health and disease." The authors concluded that, "Good taste can be used to attract consumers to nutrient-sparse foods without concern that this will adversely influence body weight." In a Press Release3 issued by the Monell Center, Dr Tordoff further commented on the research around taste and weight gain: "Most people think that good-tasting food causes obesity, but that is not the case. Good taste determines what we choose to eat, but not how much we eat over the long-term".
Findings of the Swithers group not confirmed in a new study showing low calorie sweeteners do not cause weight gain
This also very important paper, published earlier in 2016 in Appetite4, by researchers from the University of Sydney, Australia, describes the results of experiments in rats with a design similar to that used by Swithers and Davidson5 (2008). The study was intended to test the hypothesis proffered by Swithers and Davidson in their early research that low calorie sweeteners accelerate body weight gain by disrupting sweetness-energy associations. In contrast to conclusions reached by Swithers and Davidson based on their early research, these new, more direct studies, found that saccharin neither promotes weight gain nor increases fat pad mass in rats. Prior exposure to saccharin also did not produce poorer energy compensation, nor did they cause any increase in energy intake. Moreover, the authors remarked that "Our results indicate that the effects of glucose were more harmful than saccharin in terms of body weight gain and fat mass. This result is in opposition to the findings of the Swithers group and others, but is consistent with the majority of animal and human research suggesting the effects of non-nutritive sweeteners are not more harmful than those of caloric sweeteners".
Scientists support low calorie sweeteners don't affect gut hormones involved in appetite control
This last of our three papers featured here today, by Bryant and Mclaughlin and published in Physiol Behav. in 20166, is one that is critical to evaluating the hypothesis that low calorie sweeteners might cause weight gain or even affect blood glucose levels, by somehow affecting gut hormones or other regulatory mechanisms of the gastrointestinal system involved in nutrient processing. The publication reviews cellular, animal and clinical studies and puts the results of this research into context with regard to the gut-brain axis and its regulation of food intake.
The authors conclude that "the data in humans currently do not support the concept that acute consumption of low calorie sweeteners can impinge on food intake via modulation of gastrointestinal homeostatic mechanisms." The authors note that the data in humans is from mostly short-term studies, which may limit the findings, but conclude that "evidence remains lacking for effects [of low calorie sweeteners] on human gut function." They specifically note that human research consistently fails to show that low calorie sweetener activation of the gut sweet taste receptor can even evoke the kinds of effects evoked by sugar on "gastric motility, gut hormones or appetitive responses."
The following infographic, which has been developed to illustrate the conclusions of this literature review by Bryant and McLaughlin, presents the different effects of sugars vs low calorie sweeteners on the gut-brain axis in an interesting and easy-to-understand way: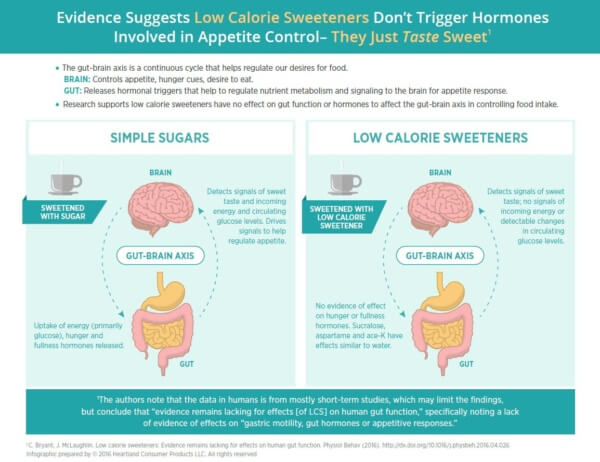 You may read more about each of these studies, including more in-depth summaries of the research, by visiting the weight management section of the ISA Scientific Library. You will find the direct link to each of these studies in the Scientific Library in the references below.